Zora's Zucchini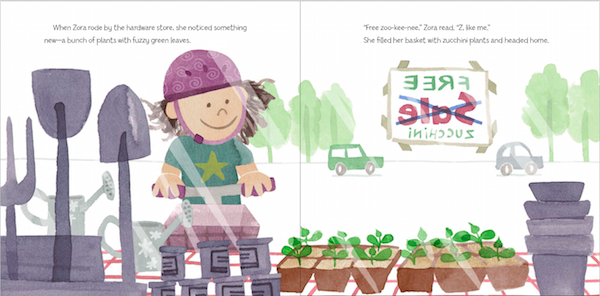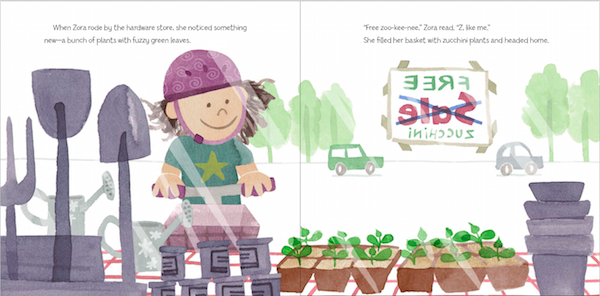 Zora's Zucchini
by Katherine Pryor, illustrated by Anna Raff
Age Range: 4-8 years
Hardcover: $16.95, ISBN 978-0983661573
Paperback: $9.95, ISBN 978-0998436616
Pub Date: September 2015
or Purchase from your local bookstore! Find one carrying our book
Audiobook Available
The first zucchini of a summer garden is always exciting, but what happens when the plants just keep growing...and growing...and growing? Zora soon finds herself with more zucchini than her family can bake, sauté, or barbecue. Fortunately the ever-resourceful girl comes up with the perfect plan—a garden swap!

Author Katherine Pryor and artist Anna Raff the team behind Sylvia's Spinach, tell the playful story of a child who discovers not only the wonder of growing food but the satisfaction of growing a community.
Katherine Pryor made her picture-book debut with Sylvia's Spinach. A particularly bountiful August harvest in her Seattle community garden inspired her to write Zora's Zucchini. Learn more about Katherine at Katherinepryor.com.

Anna Raff's family grew zucchini in their garden when she was a child. Now she raises succulents and cacti in her New York City apartment. She illustrated Sylvia's Spinach and many other children's books. Learn more about Anna at Annaraff.com.
REVIEWS
• Winner, Growing Good Kids Book Award, Junior Master Gardener & The American Horticultural Society<
• Whole Kids Foundation Book Club Selection
"This story reveals the benefits of gardening, healthy eating, and community food shares, as well as encourages donating, preserving, and sharing extras from the garden."
—Food Tank: The Food Think Tank
"Delightful."
—Booklist

"A fun and accessible title that lends itself to discussion of gardening, nutrition, and problem-solving."
—School Library Journal

"Full of the kinds of quiet details that make children return to a book again and again... Zora's Zucchini satisfies every appetite with its clean, happy storyline and whimsical illustrations."
—Shelf Awareness

"After planting a dozen free zucchini plants, Zora finds ways to share and trade her bumper crop with others in her community... Kids should warm to Zora's predicament and resourceful problem-solving."
—Kirkus Reviews

"Superior in style, liveliness, integrity and format."
—Puget Sound Council for the Review of Children's Media

"A joyful read filled with zest and zucchini! If you've ever grown a squash plant that just won't quit, Zora's conundrum will feel quite familiar. Pryor offers a happy, community-based solution that uses cooking and friends to eliminate food waste. It's a super squash somersault of success!"
—Amber Stott, Founder & Chief Food Genius, Food Literacy Center

"What a delight! With whimsy, color, and even a few touches of hilarity, Zora's Zucchini will surely inspire you to get planting. It captures the wonder of a first garden, the bounty of summer, and the promise of fresh vegetables. What is more, it's a reminder that good food is all about community. Bravo and thank you!"
—Ian Cheney, Co-Founder, FoodCorps

"As in their previous picture book Sylvia's Spinach, Anna Raff's illustrations are a wonderful companion to Katherine Pryor's simple story and healthy message for young readers and eaters."
—Craig Seashores, President-Elect, Washington Library Media Association, Librarian, Sanislo Elementary

"We'll never make headway with the pressing environmental issues of our time – such as climate change, community-building and food waste – without brilliant, fun little books like Zora's Zucchini."
—Tom Watson, "EcoConsumer," KOMO4 TV (Seattle)

"Sparking curiosity in kids about food through stories will empower the coming generations of youth to make healthy food choices for life. Zora's Zucchiniwill undoubtedly inspire the natural desire in every child to grow and taste food and to be a part of the 'marketplace.'"
—Kristin Hyde, Director of the Pure Food Kids Foundation

"A simple yet powerful story that weaves together the joys of gardening, problem solving, and community building. Zora is an inspiration!"
— Emily Han, Co-founder, Food Swap Network

"The perfect read for every present and future gardener!"
—Rick Swann, author, Our School Garden!